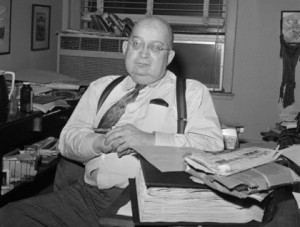 I can recognize hyperbole, but it's astounding and gratifying how many people I encounter who agree AJ Liebling was the greatest journalist in recent memory. Many years ago, pre-children, my wife and I went to Nantucket for a summer holiday (I've got a thing about Moby Dick). We were noodling in a bookstore when I came across a volume of Liebling.
"Who's that?" my wife asked.
"The best journalist ever," I replied.
A keen-eared browser nearby asked rather peremptorily, "Who's the best journalist ever?"
"Liebling."
"Oh. You're right," the unknown kibbitzer replied. 
My penchant for Liebling was newly aroused by a brilliant essay on just why he's so good, by Michael Gorra. A snippet:
Liebling's books went in and out of print, and so he would have liked the streetwise eulogy [Joseph] Mitchell gave him, in which he quoted the proprietor of a second-hand bookshop. Literary critics and historians might not know what would last, the bookman said, but he did. A used bookseller knows which books have life, which can be "read and reread and reread," and over the years so many people had come in looking for Liebling that the man had started to keep a waiting list. To Mitchell that meant that though "Joe is dead…he really isn't. He is dead, but he will live again," and over the years he has shown many signs of standing up again.