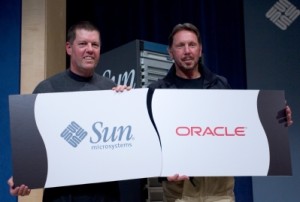 As might be expected, there's been plenty of worthwhile coverage of the Oracle acquisition of Sun Microsystems in the tech blogosphere. TechCrunch and GigaOM do the round-ups, with Om Malik's questioning about Oracle's ability to digest the acquisition being particularly cogent. I also think Dennis Howlett in ZDNet is worth a look:   
Putting on my curmudgeon's curmudgeon hat I can't help but think this is a dark day for the enterprise computing business. Who worse to entrust your entire stack than Oracle, that voracious consolidator of application providers and now, it seems, guzzler of open source and hardware?
What puzzles me, however, is the frequent suggestion that the acquisition enables Oracle to become a full-fledged competitor to IBM. Leave aside that even post-acquisition, Oracle will be less than one-third IBM's size. What matters is that too many commentators are seeing the emergence of a competitor to what IBM once was, not what it is today. Look at IBM's latest annual report: 57% of the corporation's $103 billion revenues come from services, 22% from software and 19% from "systems and technology", or hardware. Software remains highly profitable for IBM, but it is above all a services company, competing with Accenture, Infosys and Tata. 
On a completely different note, I really wonder about the collective intelligence in the Oracle/Sun tie-up when I look at the picture of Larry Ellison and Scott McNealy celebrating the deal (above). What's the point of the broken jigsaw puzzle? And McNealy's cheesy grin? There's nothing in that picture that evokes for me a vision of the future.