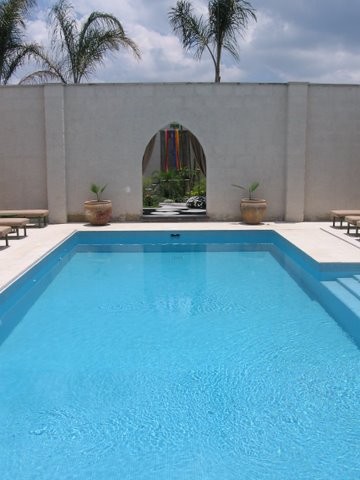 My sister Brett who is building a new life in Mexico reports:
One would think that after opening three businesses, I would have learned a thing or two, but inevitably, one would be wrong.
Once again, I have overspent, thrown all my energy and money into building the kind of place that I would like to go to…and as usual, failed to realize that the rest of the world is not on the same page as I am.
My original thought was to build a small hotel out here in the countryside…but I left my life in Chicago to have a better life–I mean, to have a life outside of work…and a hotel requires attention 24/7.
So then I thought, why not an oasis–a place where one could come for the day, relax on a chaise lounge by a turquoise pool, watch the clouds drift by overhead, eat fabulous Indian food, perhaps take a yoga class or a massage…and then, refreshed and invigorated, head into San Miguel and party or whatever the night away (while somebody else–not me–waits for you to come back at 3 a.m.)
Great concept, right? Easy to comprehend, yes? Appealing, yes?
Ha!
Read the whole story. I think there's a Peter Mayle-like book lurking in there, but certainly some enterprising journalist could write a wonderful business/travel account of entrepreneurship in Mexico.
Honestly, if you have a chance to go to San Miguel de Allende in Mexico, check out Shanti San Miguel.