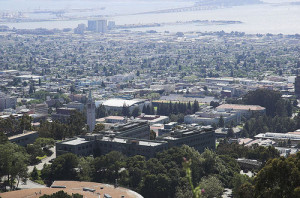 I had one of my periodic lunches with Dave Winer, which — as always — was filled with insights into technology, the media and lots of amazing new tools for making sense of our world. We both are Berkeleyites of not quite five years standing, which makes us a bit more than newbies, but still well short of veterans. It's an great city, thanks to the chemistry of a world-class university, the ideal climate, a long history of free-thinking, dissent and non-conformists, and the connection with San Francisco across the Bay and Silicon Valley just beyond. 
So where would you turn if you wanted to know everything about Berkeley? I don't think there's anywhere. The San Francisco Chronicle covers a much bigger patch, and it is in desperate shape commercially. We have two local papers, the Daily Planet and the Voice, but neither has really adapted to the web (although the Planet has improved its web presence in the last year). In any case, neither really satisfies my needs. The Planet works at being a good local paper, but it has a very definite political axe to grind (of course: it's Berkeley). The Voice is the local arm of a bigger operation, the Contra Costa Times, and is pretty so-so. The university newspaper, The Daily Californian, is pretty good, but it understandably focuses on Cal, which isn't all of Berkeley. There's an amazing community gathered around the Berkeley Parents Network, but it's not anything approaching a news source. 
So I think Berkeley provides a near-perfect test bed for a great hyperlocal site. Some of the elements might already be there. Home Girl (full disclosure: the creation of my wife) covers the real estate market and larger issues around the built environment in Berkeley. That could be a start. There is a staggering concentration of great bloggers and tweeters in Berkeley, even if many of them don't concentrate on what's happening on their home patch. Markos Moulitsas, the man behind Daily Kos, is a Berkeleyite. There's Dave. Biz Stone, one of the Twitter founders, is in Berkeley. Econoblogger supreme Brad DeLong is here (even if he lives through the tunnel in Lafayette). Who knows how many great bloggers are here that I don't know about? And there's a great source of energy and ideas in the large student population. 
It's become a cliché of our Great Recession that great ideas emerge from hardship. Perhaps this is an idea whose time has come?
Photo by ptufts from Flickr