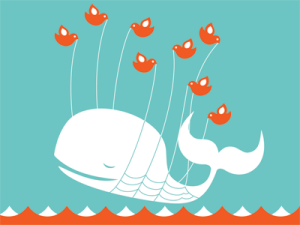 Today's Financial Times has an article with the promising headline, Should Twitter be confined to the marketing department? Sadly, the subeditor who wrote the headline clearly didn't read the article since it's entirely about whether or not the marketing department should tweet and not whether other parts of the corporation should think about it. 
There's something else odd about the piece. It's constructed as a series of comments by a variety of "experts". Only one of those quoted, Don Tapscott, lists his Twitter address. He's a very good tweeter, as well. As far as I can tell, only one of the other "experts" even has a presence on Twitter: Bernhard Warner has logged a grand total of 96 updates in his 13 months using the service. Not an appassionato, clearly. My nosing around didn't reveal any Twitter identity for either Olivier Toubia or Richard Pinder, but the limitations of Twitter search might explain that. (I'll guess as well that Pinder, who's COO at Publicis Worldwide, had someone in the communications department write his contribution, but that's another gripe.)
I recall the same thing from the early days of blogging. Once major media outlets figured out something was going on, they'd contact experts, none of whom blogged. Not that there's anything wrong with that. I think people are entitled to viewpoints when they're not practitioners. But if you have a column purporting to offer management advice, I think it is essential that the expert voices have direct experience of what they're talking about.