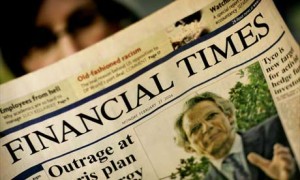 I read the Financial Times before other people read the Financial Times. Now it's trendy and everybody carries around a Financial Times.
Barack Obama, quoted in today's Financial Times.
Incidentally, the FT interpolates that Obama read the FT in Chicago in the 1980s. I think that might be wrong. The FT's circulation in Chicago then was next to nothing, and there were hardly any outlets that carried the pink 'un. I suspect Obama was referring to his time working for Business International in New York in the '80s.