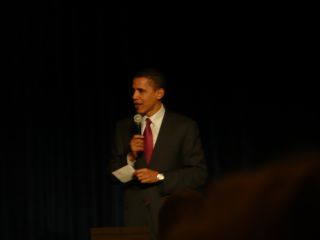 I plunged into modern American politics today. As any reader of Davos Newbies would know, I've always been a political junkie, keeping up with the news, the policies, the commentariat. But my hesitations about the money-driven nature of politics has kept me at a discreet distance. I recognize the long historical truth of Mark Hanna's famous line: "There are two things important in politics. The first is money and I can't remember what the second one is." I, however, preferred to remain unsullied. Until now.
The incompetence and criminality of the Bush administration has really driven America into the depths. Change has become an easy phrase, tossed around by all the candidates, but true change is certainly needed if the US is regain its footing as a country to be proud of. I have no doubt that Barack Obama is the best presidential candidate to bring about that much-needed change. So I ponied up $1,000 to attend a lunch in San Francisco today with the man I hope will be the next president of the United States.
If I had paid $2,300 I would have had the honor of standing in line for at least an hour to shake senator Obama's hand and get my picture taken with him. For my grand I was consigned to a table in the ballroom of the St Francis hotel with a random group of nine other Obama supporters. And that was the most interesting part of the event.
Sitting two seats away from me was an elderly, retired plastic surgeon, who had moved from Texas to northern California just a few years ago. He told me that the last time he voted for a Democrat was in 1960, for JFK. Since then, he has voted Republican including, two times, for George W. Bush. Like so many people — although until today these people remained the subject of articles or polling data, not an actual encounter for me — this gentleman had finally come to be utterly dismayed by Bush. He felt "betrayed". As a result, a year ago — at a time when his choice probably seemed quixotic — he  decided to support Obama. All the rhetoric about crossing boundaries and bringing people together was embodied right at my lunch table. I was astounded.
Obama himself came on stage 90 minutes late, which I know is pretty much par for the course in these jam-packed days of campaigning. His events has probably started pre-dawn and you only need a 10-minute slippage for each event before things are running desperately behind schedule. Obama talked about what Martin Luther King called "the fierce urgency of now" as the reason why he entered the race almost exactly a year ago. That certainly struck a chord for me. Did I, however, hear the electrifying orator I've seen on television? Not quite: the speech was clearly cobbled together from the many bits and pieces he has developed on the stump, and, political junkie that I am, most of it was familiar.
Two moments, however, stood out. First, he was both winning and funny when recounting one of the key moments (in my mind) of the recent Nevada debate. The candidates were asked what their weakness was. Obama answered truthfully: I'm not very organized, I can't keep my own schedule, my desk is a mess. The other two candidates gave the worst kind of false answers: I care too much about people; I'm too passionate about change. Obama got a deserved laugh. The other moment was his peroration about the importance of hope. I know he uses this passage in just about every speech he gives but when he spoke about hope and the people who fought the key battles of civil rights, who went to jail and even gave their lives, because of their hope I certainly had a lump in my throat and tears in my eyes.