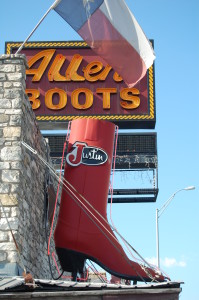 Somehow I'm an American who survived into my second half century without ever really going on any kind of road trip in my native country. I'm unexpectedly remedying that deficit in a minor way by helping my sister drive to her new home in Mexico.
I flew to Dallas this morning where I joined my sister, who had done the tough slog down from Chicago. We spent today driving relentlessly south in Texas: through Waco, making a brief afternoon stop in Austin (home of the magnificent cowboy boot sign above), through San Antonio, and fetching up tonight in the border town of Laredo.
Our hotel, the charming La Posada, is literally on the border, overlooking the Rio Grande. We could walk to the International Bridge, which is the border crossing, but we'll be driving my sister's over-stuffed Toyota FJ Cruiser over the border in the morning. We then plow on aiming to spend the night in San Luis Potosi, before doing the final leg to San Miguel de Allende on Tuesday morning.
The landscape through Texas was, to tell the truth, not that interesting. The most notable sights were the stunning wildflowers on the freeway median, which my sister reckoned were the fruits of Lady Bird Johnson's campaign to beautify the nation's highways.