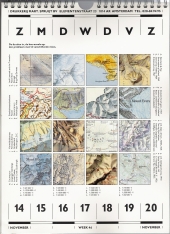 About 25 years ago, under the watchful tutelage of a great friend, I became a big fan of avant garde Dutch graphic design. My wife is still somewhat miffed that the most successful present she ever got for me was some free swag from the Dutch post office. One of my favorite items of design from that long-ago time was a calendar from Mart Spruijt, an Amsterdam-based printer. Two designers then at Total Design, Paul Mijksenaar and Esther Verdonk, designed the 1982-83 Spruijt calendar, and the theme they chose is one of my passions – maps.
In all the office and home moves since then, my Mart Spruijt calendar had gone missing. Something, I can't recall what, dredged the memory up about a month ago. I did a search on Abebooks for the calendar. No luck. I did a Google search and after some sifting, I hit the jackpot at Antiqbook, "Europe's premier site for antiquarian and out-of-print books".  Antiquariaat Frans Melk had exactly what I wanted and after a long wait for the trans-Atlantic postal service to deliver, it arrived yesterday.
Some memories disappoint when the reality is confronted. Not this calendar. I like the typography, but what makes it so thrilling is the week-by-week cleverness of the map choices. The 52 weeks are divided into 12 themes, ranging from mapping three dimensions onto two, to bird's eye views, to floor plans, to cities, etc. Each page is so wonderful that I might take to reproducing a different one every now and then on Davos Newbies just to capture my thrills.