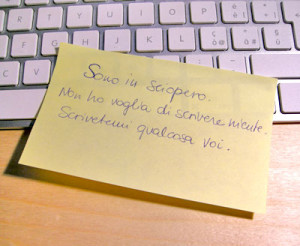 When we were in Italy earlier this month, my children had a chance to learn something essential about Italian life: lo sciopero. Our plan was to travel from Venice to Rome by train on Monday afternoon, so we could catch our early morning flight back to the US on Tuesday. When we walked into our hotel on Sunday evening, the pleasant concierge asked me if we knew about the transport strike.
No, I didn't. What was going on? It turned out that from 9pm on Sunday until 9pm on Monday, all public transport in Italy was out on strike. Some trains might run, she said, but she couldn't get through to the information line that supposedly listed the uncanceled trains. Incidentally, the vaporetti, Venice's water buses, were also going to be out on strike (so much for our expensive 24-hour vaporetto tickets).
My older son and I set off for the train station in the hope we could find out anything about our train there. The still-running vaporetti took us there reasonably swiftly, where we discovered a long line for the information office. I'll hazard a guess that the information office employees are used to harassment: they only allow one person at a time into the office, through a locked door. The train station schedule board painted a grim picture. After 9pm, there were no trains listed at all.
When we eventually made it into the information office, I asked about our reservations for Monday's 16:42 train to Rome. The man looked through a computer print out and declared, "It's running." Phew. I decided to press my luck. "Does that mean it will certainly be running? Are there situations when listed trains don't run?" He looked at me like I was a cretin. "I said it's running." "Certainly?" "Are you certain the world will exist tomorrow?" he replied. Everyone's a philosopher.
In any case, we walked the next afternoon to the train station (as expensive as vaporetti are, you don't want to even know how extortionate water taxis are in Venice). Lo and behold, our train was there. It was the only train that day running from Venice to Rome. Extraordinary luck, especially since I had tried and failed to get reservations for earlier trains.
So now my children know what a strike is.
Translation of image above: I'm on strike. I don't want to write anything. Write something yourself.