One of the reasons Davos works is its isolation. It's not one of those places where people dash out to a taxi because they have other business commitments in town. If you're there, you're there for the Annual Meeting (or you are a slightly bewildered German family in Davos for a skiing holiday, wondering what the fuss is about).
Most people fly into Zurich, but then there are a variety of choices. If you are a plutocrat, Helilink provides one of the most spectacular helicopter rides of your life. It takes about 45 minutes from Zurich airport to a helipad overlooking the Davoser See, the lake in Davos.
Less expensive (but only slightly) is the limousine service from Zurich to Davos. That takes two and a bit hours. A similar length trip is on the buses which the Forum organises for participants. One of the good things about the buses is that you meet lots of other participants on the way.
Finally, there is the train. Logistically, the train is the least satisfactory way to Davos. You need to change twice (at Zurich Hauptbahnhof and Landquart) and it takes three hours. But there's no doubt that the train is the most beautiful and restful way to go. I always find it a way to decompress on the way to Davos. And there will certainly be a lot of other participants on the train.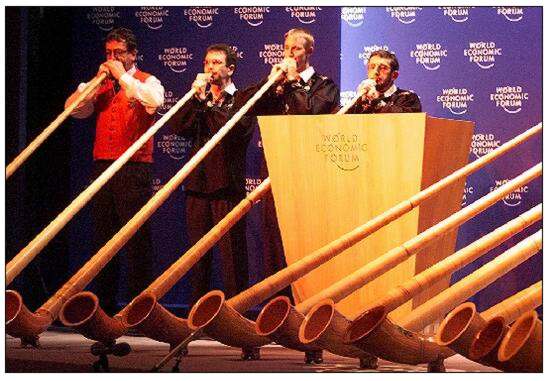 Announcing the arrival of the train
All of the above presupposes that the weather cooperates. Last year, Davos was hit on Wednesday evening by a blizzard that didn't stop until late Saturday. As a result, Sunday skiing was magnificent. But helicopters didn't fly and roads were a mess. Even in the worst weather, however, the trains get through.