How long should I spend in Davos?
Some misguided people think Davos "peaks" on Sunday. If you really want the Davos experience, however, staying through Tuesday can be very valuable (I would say that, wouldn't I). Here's why. Most of the politicians do leave on Sunday because of domestic commitments. So Monday and Tuesday are less hectic and more business focused. If you want to hear Bill Gates, Noboyuki Idei, Masayoshi Son, John Chambers, Tim Koogle, Durk Jager, Carly Fiorina, Phil Knight, Bill Joy, Michael Dell, etc, Monday and Tuesday are the days. Here are Idei and Koogle enjoying a Davos moment last year.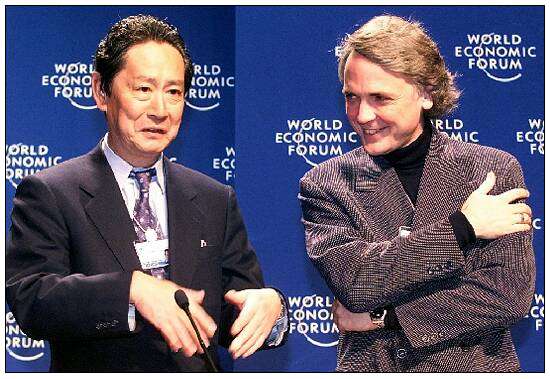 There's a second, in some ways more important reason. For all of our efforts to encourage an informal atmosphere in Davos, it takes time for people to decompress from their normal existence. After a few days in Davos, most people begin to loosen up, wear more informal clothes and generally smile a lot more than they usually do. So the informal encounters that are the best of Davos often happen in the latter days of the meeting, rather than the earlier ones.
The pinnacle of this atmosphere, if it's a nice day, is the Tuesday Schatzalp lunch. This is an extraordinary buffet, outside in the snow, on the terrace of the Schatzalp Hotel, which was in the 19th century the sanitorium where The Magic Mountain is set. It's perched high above Davos, reached either by a hike up the mountain or an old mountain funicular. Just make sure you get back to the Congress Centre for the plenary I'm moderating on "The shock of the new"!