One of the consequences of riding my bike to work is that I have to face the ride home, 2.5 miles up hill, at the end of each day. So I'm acutely conscious of any extra weight in my bag.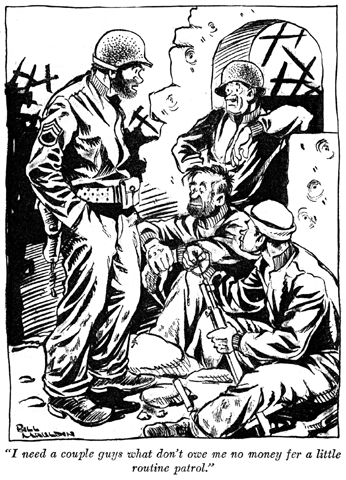 Sadly, I couldn't find a Bill Mauldin cartoon I remember from my childhood (so I've made do with another). His great creations, Willie and Joe, are slogging up a hill, with their heavy army backpacks and rifles. The caption reads: "I told you to throw the jokers out of that deck of cards." In my trivial, daily hill climb, I know what Willie and Joe meant.
My father was a captain in the infantry in the Second World War. Among the few visible memories of the war that he retained was a battered copy of Mauldin's Up Front cartoons. I suspect these cartoons, certainly mostly unknown to my generation and younger, were a common touchstone for those fighting men.