***Breaking news on the programme
As Dave Winer would say, I am so psyched. We have been angling for months to get a session where Tony Blair and Michael Dell would speak together about whether there is a new style of leadership in politics and business. Lots of people who "know about these things" told me that it would never happen — politicians tend to stick with other politicians in public. But 10 Downing Street agreed the plan today! A real signal that there is a new style of leadership, to my mind.
***Resuming regular service
I admire the self-discipline of people that have regular weblogs. On a day like today, it's hard to tear away from immediate problems. But as Klaus Schwab, president of the World Economic Forum, says, "Don't let the urgent tasks overwhelm the important ones."
As many people know, president Clinton is confirmed for Davos on Saturday 29 January. So we are engaged in the "Clinton shuffle". Eleven sessions that were scheduled at the time now reserved for the president have had to move or be deleted. The space constraints in Davos are already severe, so this is not a simple task. We can't create rooms that don't exist.
What makes Saturday so inflexible is that we have the soirée on Saturday night, so the plenary hall (which is being decked out for the party) is unavailable all Saturday afternoon. The soirée is part of what makes Davos special. Each year, different countries or regions handle parts of the gala. So, for example, there will be a Chicago blues room (I had to convince people here that Chicago was the city of the blues, not of jazz).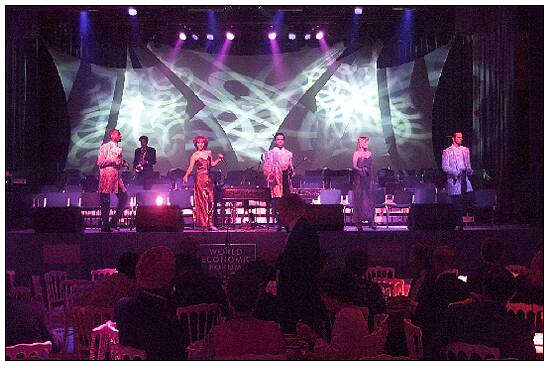 Plenary hall entertainment at the 1999 soirée
The most popular part of the soirée is whatever is happening around the swimming pool (the town swimming pool of Davos is next door to the Congress Centre, and is dragooned into service for the soirée). A few years ago, at the height of the Russian oligarchs' power, they hosted the swimming pool area. Suffice to say, there was no end to the flow of caviar.
This year, the Mexicans have grabbed the swimming pool. I know they are flying in a mariachi band. We'll have to see what else is planned on the night.
Incidentally, the dress code for the soirée is black tie or national dress for men, evening wear for women. A lot of people do dress formally, but many people come in business attire (but don't tell anyone I told you that).