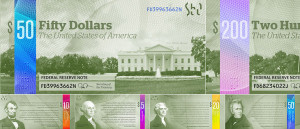 The Dollar Redesign Project. Yes, please. It might seem trivial, but I think a dose of clean modernism on our currency would be a catalyst for a raft of changes in public design. The Ministry of Type comments (with a word new to me — guilloche): 
There are only a few designs on there at the moment, some a bit jokey, but of the serious ideas I quite like the ones in the first set below. I can't see any notes that deviate too far from the originals being successful, as there are so many cultural and linguistic associations with the ol' greenback; it may seem tediously conservative, but notes that aren't predominantly green just won't feel like dollars. I hope the designs go further than the 'stick a guilloche on it and call it a banknote' idea – guilloches are beautiful things – I wrote about them before, here– but it takes more than a few of those to make a successful banknote.
Dickensian Denial. The Financial Times' John Gapper writes about the Madoff/Merdle connection. Having recently watched the brilliant BBC series of Little Dorrit, I'm a sucker for any of these Dickensian connections. Gapper: 
So what is Dorrit? A victim (he loses all of his money to Merdle) or an accomplice (he introduces others to the fraud)? A similar ambiguity applies to some of those around Madoff. These modern William Dorrits, those closest to the "greatest Forger and greatest Thief that ever cheated the gallows," are scrambling to defend themselves and to declare that they knew as little as anyone about the laconic sociopath. In 21st-century New York, as in Victorian London, that can be a tough story to sell.
The Master of Money. The master of telling financial tales, Michael Lewis, reviews Alice Schroeder's The Snowball and reflects on Warren Buffett. His review almost makes me want to read her 838-page doorstop. 
Live-blogging the Eurovision Song Contest. Almost as good as watching this annual schlockfest.