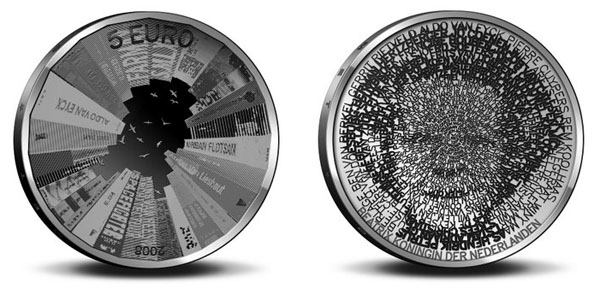 Ages ago, my wife gave me the best birthday present I ever received: several volumes of the yearbook issued by the Dutch post office and several other Dutch postage ephemera. Cost of the present: zero. She had written to the Dutch post office to say I was a fan of their design and did they have anything for me. I'm not a stamp collector, but I am an aficianado of Dutch design.
It's not just the stamps. There's great graphic and product design all over: books and magazines, posters, public signage, you name it. (My first book, the long-forgotten Faber Guide to Twentieth Century Architecture, was designed by one of the Dutch greats, Gert Dumbar.)  The latest wonder from The Netherlands is a new 5 euro coin, on the theme Netherlands and architecture. It's fabulous.
Contemporary Dutch design expresses complete confidence in the modern age. No need to be retro, or to pay obeisance to traditional forms. The Obama administration has plenty on its plate, to say the least, but it would be one sign of a confident nation if the US Treasury and the US Postal Service were to engage the best contemporary designers in future.