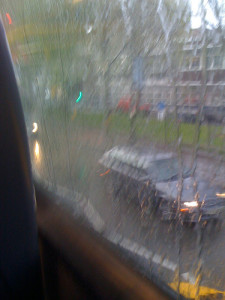 We've arrived to a cliché.
My family landed this morning at Heathrow for a three-week visit to London, principally to see family and friends. The big news here is that the Met Office, the national weather service, has had to revise its April forecast of a "barbecue summer". When I drove to Sainsbury's supermarket in my jetlagged state at lunchtime, a gleeful-sounding BBC reporter was speaking to people staring at the rain in the seaside resort of Weston-super-Mare.
I can remember the feeling from my quarter century living in London. There's nothing you want to do more than escape to somewhere sunny and warm. This time, however, is different for me. I live somewhere sunny and warm (excepting those lovely cool mornings and nights). I see plenty of sun. It may sound odd, but it's truly comforting to come to a steady drizzle.
I reserve the right to change my mind if it doesn't stop for three weeks.
Photo by Jase n Tonic on Flickr